5.) Create a conversation between this couple.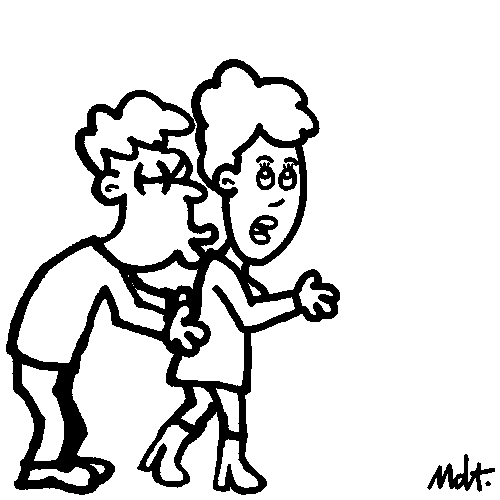 Ted: So, I was watching the Discovery channel the other day and they did a program on the social behaviors of various types of monkeys. Did you see it Dora?
Dora: Oh, uh…no. I think I was washing my hair.
Ted: If you'd seen it, you would have learned that there is no longer a need for you to wash your hair now that I'm around. I learned this awesome thing, let me show--
Dora: Not wash my hair? Are you going nuts?
Ted: No, just practical, it's called Social grooming, let me show you.
Dora: Ah! What are you doing?! Ouch! That was one of my favorite ladybug earrings!
Ted: It's o.k., this is how the monkeys did it. They would part their mate's or best friend's hair, look deeply at what was uncovered, usually a tasty bug, and pick it out and eat it. I'm sure it's an excellent source of protein.
Dora: Are you saying I've got bugs in my hair?! I need to go uh…wash my hair. Bye!
Ted: Meet me tomorrow for lunch?
Dora: (no response, other than the fast-paced, dwindling sound of her boots, click, click, clicking away).